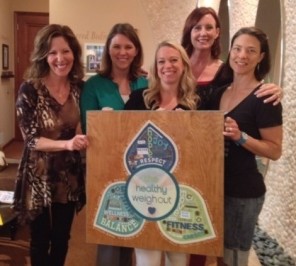 This plaque is a VERY meaningful, handmade gift of "thanks!" given to our team by a special group of HWO participants.
Each petal of the flower includes words and quotes that embody our 3-pronged approach – Emotional, Nutritional, and Physical. We proudly showcase this plaque in our center for all to see and enjoy!
And in return, below is a special message to all of our incredibly brave and brilliant alum. This video was filmed on September 22, 2016, which was the 2nd anniversary of the first day of our first HWO session. We can't believe how far we've come in just two years, and we can't wait to see what the next few years have in store. Nothing warms our hearts more than seeing people transform their health from the inside out.
A Special Thank You While Celebrating 2 Years!