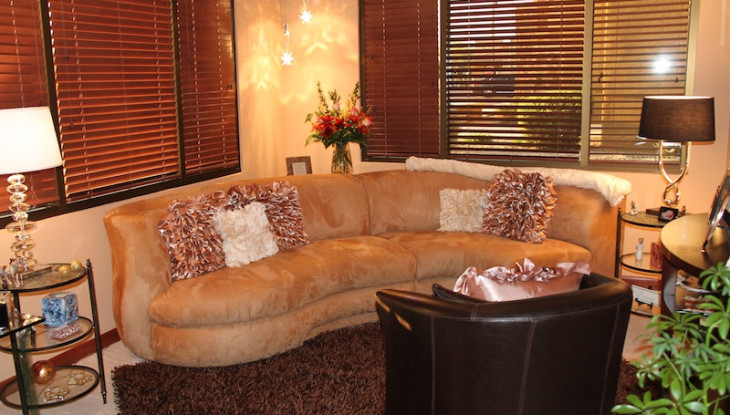 Our Facilities
Warm, Welcoming Environments that Support Positive Change!
Understanding just how important your physical external environment is when working to create meaningful internal change, our team has taken great pleasure in creating the unique therapeutic and "intuitive exercise" environments that make up  TheHealthyWeighOut and A New Beginning facilities.   Both are uplifting, beautiful facilities that communicate a sense of safety and hope and speak to the quality and nature of the positive energy that our team brings to our work with each and every one of our clients.
From the peaceful halls of our therapeutic facility, A New Beginning, to the fun, uplifting energy of our TheHealthyWeighOut "intuitive exercise" studio, we love our transformational facilities and know you will too!
Your PRIVATE "Intuitive Exercise" Studio
A Safe Haven to Re-Engage with Movement – and Your Body!
Creating a space where our clients feel safe to come and exercise, especially after having had negative experiences of hurt or judgment in public gym settings and/or "gym trauma" where they felt embarrassed or ridiculed, was a primary goal of our compassionate TheHealthyWeighOut team!  We set out to create a non-intimidating environment that was private, respectful and accepting of all body shapes and sizes and where our clients felt emotionally "safe" to come just as they currently are, to begin their process of change.
We are very proud of our "intuitive exercise" studio and, especially, for creating a compassionate environment where individuals of every shape and size feel safe, supported and hopeful!
 A New Beginning's Beautiful Therapeutic Environment
Giving Hope… Creating Change!
A New Beginning has been providing hope and healing to individuals struggling with eating issues and all eating disorders (anorexia, bulimia, emotional eating, binge eating disorder), trauma, depression, anxiety and relationship issues for over 17 years.  In our beautiful, unique therapeutic environment, clients feel welcome and supported as they work to create the emotionally healthy life they desire.
We are so very proud of our therapeutic center for it's positive energy of safety and hope and the healing that occurs within our facility's therapeutic walls.